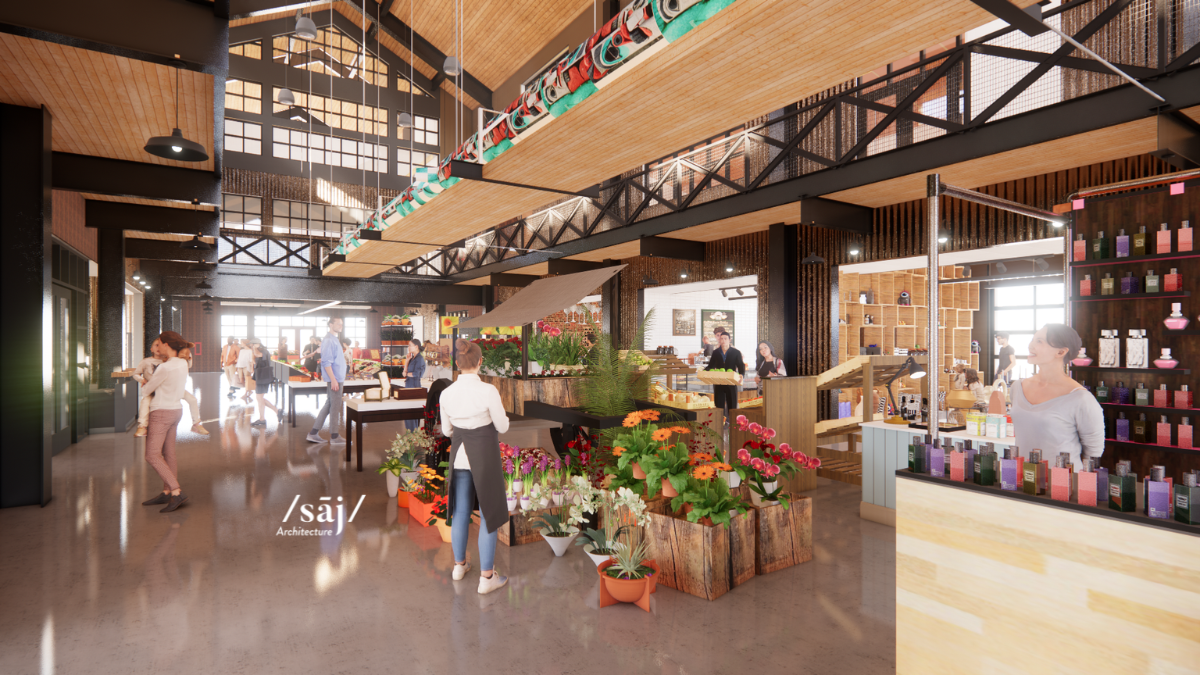 Cross-laminated timber is an exciting commercial construction material. Discover how members of our team incorporated it into the Port of Kalama's Mountain Timber Market.
Mass timber construction for commercial buildings recently made the news when a Swedish developer announced plans to construct the world's reported largest "wood city" in Stockholm. As architects in the Pacific Northwest, we at SĀJ Architecture also see incredible potential for using mass timber and engineered wood in commercial buildings. 
Anybody following the increased use of cross-laminated timber (CLT) in commercial buildings is by now well versed in the product's sustainable aspects. Using CLT in a structure can play a significant role in gaining U.S. Green Building Council LEED certification. 
As noted in the Axios article, fire is a common concern related to wood structures. However, mass timber is woven throughout the building code and is more fire resistant than light-framed (wood buildings framed with studs). Mass timber offers inherent fire-resistant qualities and, unlike steel, won't bend when exposed to extreme temperatures associated with fire. 
What you don't often hear about are timber's more intangible qualities. For example, natural, exposed wood can facilitate a positive human experience. Specifically, its biophilic properties create a connection to nature in trauma-informed design. Additionally, natural wood construction can evoke the local region's industrial history. 
Those qualities intrigued Port of Kalama (Washington) leadership as they envisioned their regional tourism facility. This project is now known as the Mountain Timber Market, a name with historic ties to an early industry leader in the City of Kalama. The Willard Case Lumber Company, subsequently named Mountain Timber Lumber Company, formed in 1907 along Kalama's shoreline.
With the City of Kalama benefiting from its proximity to the Northern Pacific Railway and Columbia River, the port became the perfect vehicle for harvesting and selling old-growth timber instrumental to the development of much of the local region and beyond. Discover more about the inspiration behind this project and the Mountain Timber Lumber Company's history by reading "Lumberman Willard Case of Kalama" on the McMenamin's blog.
In the visioning of the Mountain Timber Market, we on the design team strove to celebrate the long-storied legacy of the region's natural resources. Wood as a structural material became a guiding principle from the conceptualization of this project. After we explored using tongue-and-groove timber decking for the floors and ceiling, using CLT as an alternative structural system became a logical consideration.
So, what did we discover during this exploration? Here are our top seven takeaways: 
1. Don't assume CLT is the right structural system
During our initial investigation, we performed a cost-benefit analysis of CLT comparing the system to a more traditional tongue-and-groove decking approach. Our analysis didn't show a cost savings with CLT. However, early in the design process, we toured the Port of Kalama and walked through a CLT project under construction. We learned valuable lessons about what our client liked and disliked, including the project's structural joint spacing and frequency. Some manufacturers limit their panel's spans. Therefore, exploring the specifications of your basis of design and acceptable alternates is important. 
2. Think about product lead times.
CLT is efficient to erect. Once the CLT panels arrive on-site, contractors can erect the structure the same day, leading to significant schedule savings. However, CLT can have a long lead time for delivery, so factor delivery into your overall construction schedule. 
3. Protection, protection, protection!
Just like any wood element, CLT is vulnerable to the weather. If CLT will be exposed in its final expression, an architect must specify a way to protect it from the elements during inclement weather and construction. Though weather exposure is unlikely to change CLT's structural properties, the resulting water seepage and staining along the edges and joints can be unsightly in its final finished state. 
4. It's all about the assembly.
When looking to combine structural systems, architects must remember that bringing a different structural system into the mix can lead to unintended consequences. Think of CLT as a product that plays well with itself and is proprietary in nature. Have you ever tried to build an integrated structure with Legos and Lincoln Logs? A similar lesson learned comes from pairing steel and CLT. Be aware that a moment steel connection might require the builder to notch out the CLT to accommodate other proprietary joints and fittings.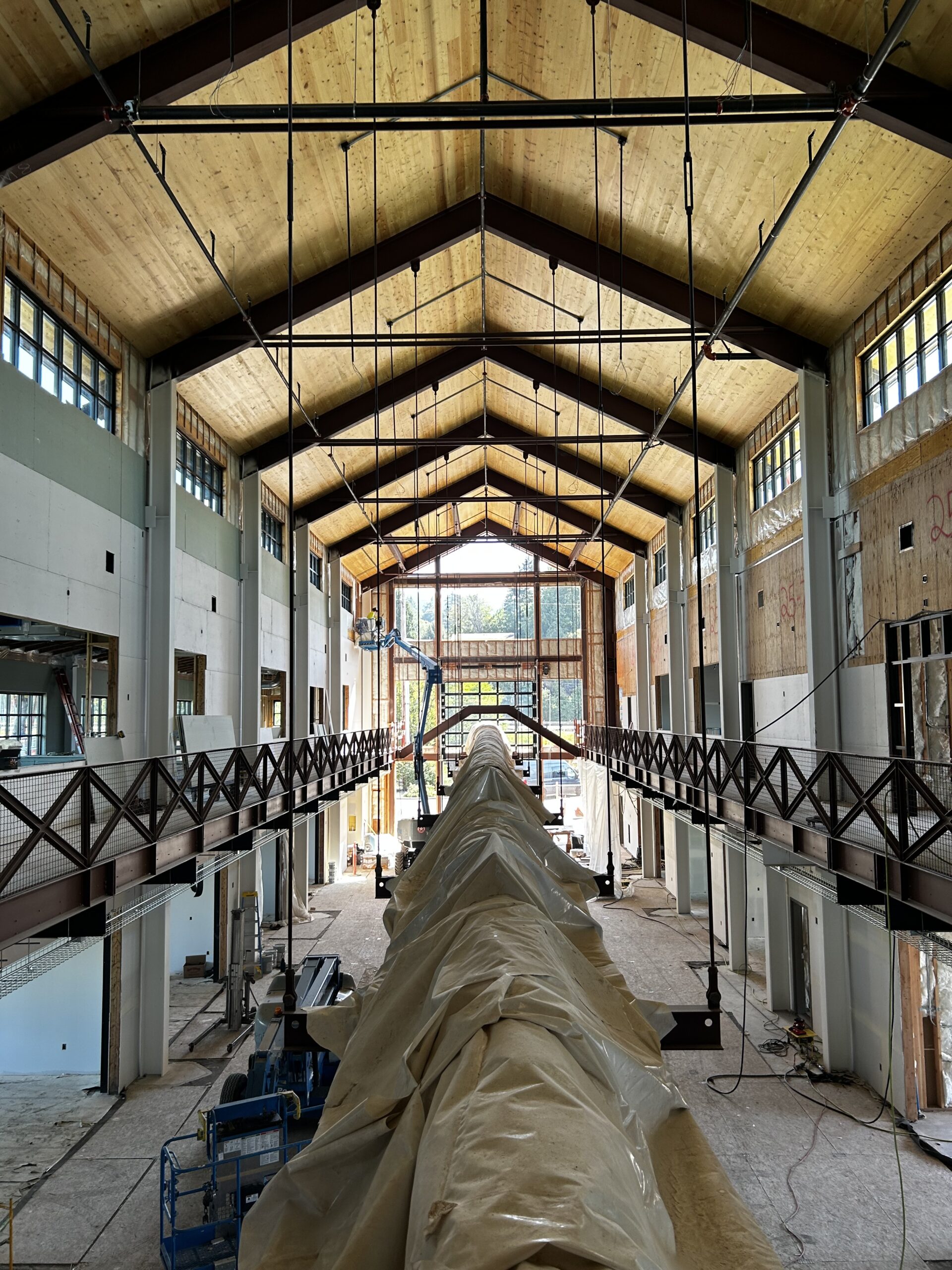 5. CLT is inherently beautiful.
Once CLT is placed, not much work needs to occur outside of finishing it. The product is beautiful and will maintain its aesthetic qualities for years. 
6. Oh, the acoustical properties!
Because of the product's density, CLT is a great acoustical isolator. That being said, architects must consider noise transference from footfalls if using it as a floor system. We can mitigate this in various ways, including rigid insulation, proprietary systems, and a concrete topping slab. 
7. To express or not to express?
As with any exposed structural system, we must decide how finished or how industrial a look is appropriate for the client. We can hide electrical conduits in insulation layers above the CLT, for example, but this makes the conduit inaccessible for future maintenance. Architects must consider the routing and coordination of mechanical, electrical, and plumbing systems so to achieve the desired aesthetic. 
To learn more about mass timber or CLT building construction, please reach out to SĀJ Architecture at info@saj-arch.com. We are happy to share our experience and expertise for your next project.
Project attribution of credit note: SĀJ Architecture principal Jonah Jensen, AIA, NCARB, LEED AP BD+C, led planning and design for Port of Kalama's Mountain Timber Market while at the now-closed firm BLRB Architects. SĀJ design professional Angela Crooks served as job captain, SĀJ principal Seth Anderson, AIA, NCARB, LEED AP, provided programming support and code review, and SĀJ interior designer Ellie Escobar is providing design support. Upon the closure of BLRB Architects and to ensure the project's successful completion, SĀJ Architecture secured the contract to oversee construction administration of the project.

Jonah Jensen, AIA, NCARB, LEED AP BD+C
Jonah Jensen is a principal architect and owner of SĀJ Architecture, a commercial firm with offices in Bend and Portland, Oregon. A natural storyteller, Jonah's superpower is weaving narratives into projects that reflect the communities and clients he serves. During his 20-plus years in the architectural field, Jonah's work has primarily focused on K-12 schools and historic building rehabilitation.